BibSonomy GPT Plugin User Guide 📖
We're here to make your journey of installing and using the BibSonomy GPT Plugin in the ChatGPT interface as smooth as possible. Get ready to delve into the world of scientific publications with ease and fun!
Before You Start 👀
Make sure you're equipped with:
Access to ChatGPT with the ability to install plugins (currently exclusive to PLUS users).
Your own BibSonomy account.
Installation Guide 🛠️
Let's get the BibSonomy GPT Plugin installed in a few easy steps:
Fire up your favourite web browser and head over to ChatGPT.
In the Model drop-down menu, find and select "Plugins". If it's missing, your access might still be on its way. Stay tuned!
Choose "Plugin store".
Search for "BibSonomy" in the search field and press enter.
Spot the BibSonomy Plugin and hit "Install".
You'll land on a new page. Just log in with your BibSonomy account and click "Authorize" to let the plugin access your account.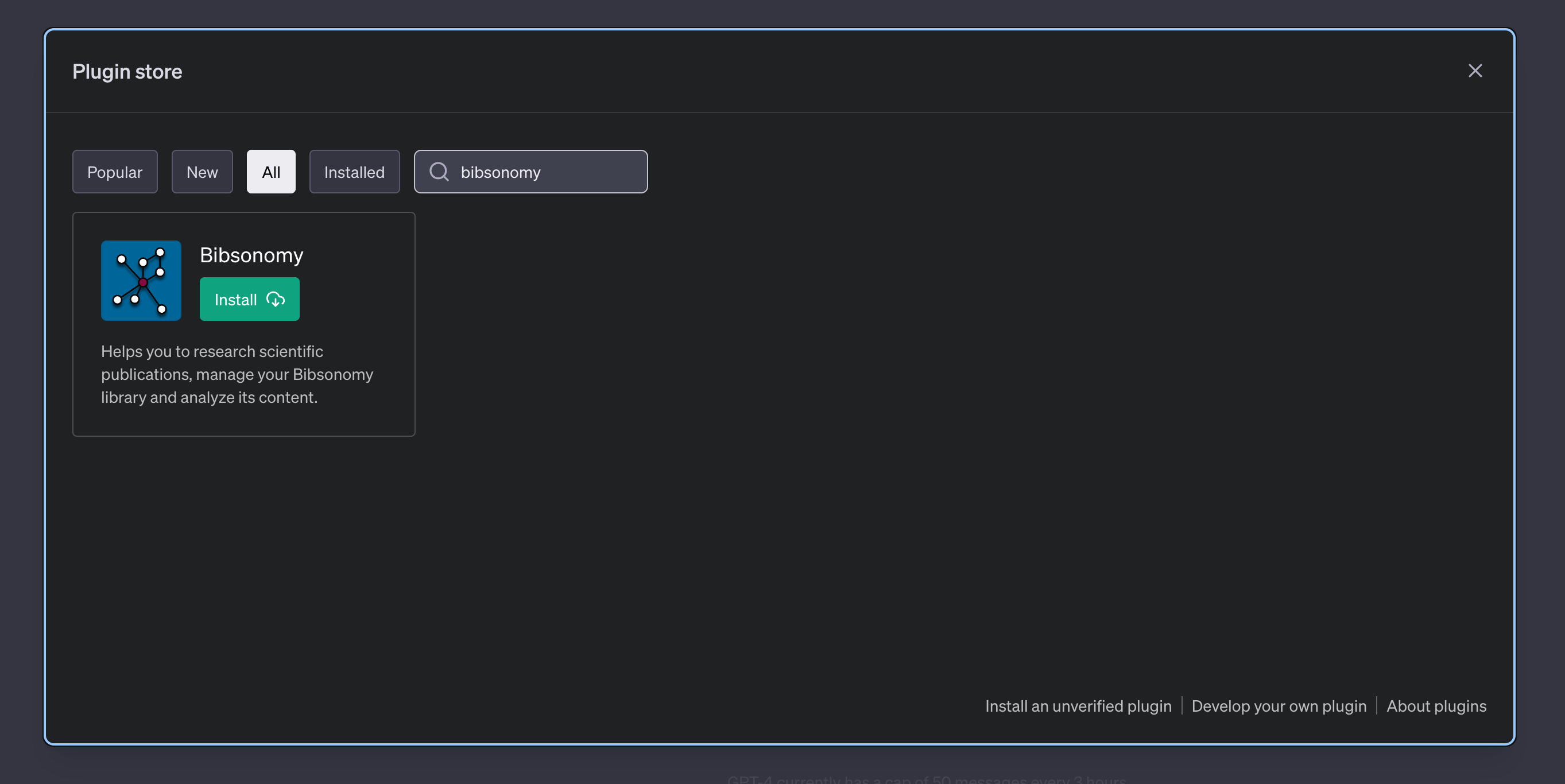 Great job! 🎉 You should now see the ChatGPT interface with the newly installed BibSonomy GPT Plugin. If you run into any issues, don't hesitate to reach out to us (details below).
Using the Plugin 🤖
With the plugin successfully installed, you're ready to explore. Just start a conversation in the chat interface.
You could ask, "What publications are there about GPT-3?" The plugin will promptly respond with a list of relevant publications from BibSonomy and Semantic Scholar.
Ask away about any specific publications housed on BibSonomy and the plugin will strive to give you the best results.
About the Paper 📜
The BibSonomy GPT Plugin was introduced in our paper titled "From Chat to Publication Management: Organizing your related work using BibSonomy & LLMs". This paper delves into the design, development, and functionality of our Retrieval Augmented Generation System that enhances the process of publication management. It also covers various metrics, user studies, and comparisons against different LLM models.
For more details, and to access the full plugin source code, visit our Bitbucket repository:
BibSonomy GPT Plugin Repository on Bitbucket
Need Help? 🆘
Got questions, feedback, or need a helping hand? We're here for you. Email the BibSonomy dev team at chat-plugin@bibsonomy.org.
Here's to a great adventure exploring the realm of scientific publications with the BibSonomy GPT Plugin! Happy exploring! 🚀